Andrew  Appointed National Observer Assessor
Our Group Chairman and Chief Observer, Andrew Bloomer, has been appointed one of two National Observer Assessors (excluding our ASDM Steve Ellis) for the North by IAM Roadsmart.
His duties will involve assessing whether prospective National Observers have met the necessary standards to comply with the criteria set down by the IMI.
He will conduct these assessments for both the cars and bikes.
Membership by Portfolio debut for WARRAM
(added August 2019)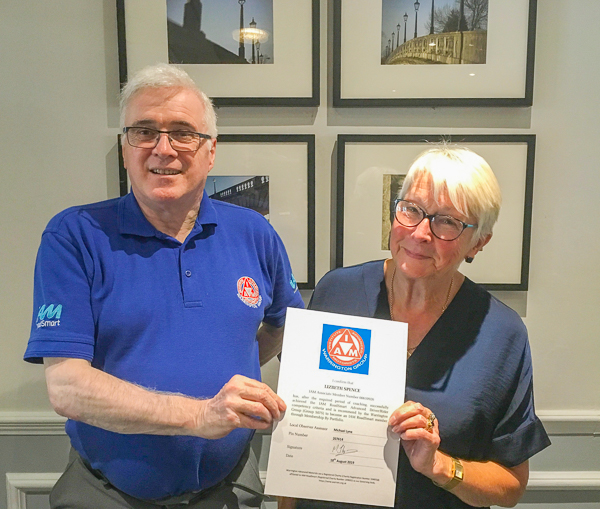 Warrington Advanced Motorists has completed its first group sign off by portfolio.   Mike Lyne, Local Observer Assessor (car),  delivered the Advanced Driving Course to successful recipient, Lizbeth Spence.   Andrew Bloomer, Chief Observer, was the other Observer involved.   Pictured above is Mike (left) presenting Liz (right) with her certificate recommending her for IAM RoadSmart Membership by Portfolio.   Congratulations to Liz.
Our Andrew is 1 in 15,000!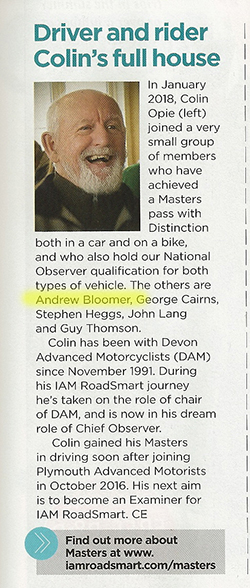 (added February 2019)
Andrew Bloomer, our Group Chairman, has just been recognised as one of 6 people in the whole of the IAM (that's 1 in 15,000 IAM Members ) who has achieved all of the following:
National Observer for both Cars and Bikes
Masters with Distinction for both Cars and Bikes
This was reported in the IAM Spring/Summer 2018 edition of "RoadSmart", the IAM's magazine for it's members on Page 9.
Well done Andrew – Excellent news and the Group is proud to have a such a good Driver and Rider with us!
If you want to find out more about the Masters, then please click here: https://www.iamroadsmart.com/masters