Our Andrew is 1 in 15,000!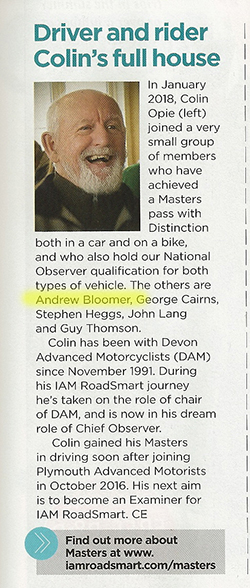 (added February 2019)
Andrew Bloomer, our Group Chairman, has just been recognised as one of 6 people in the whole of the IAM (that's 1 in 15,000 IAM Members ) who has achieved all of the following:
National Observer for both Cars and Bikes
Masters with Distinction for both Cars and Bikes
This was reported in the IAM Spring/Summer 2018 edition of "RoadSmart", the IAM's magazine for it's members on Page 9.
Well done Andrew – Excellent news and the Group is proud to have a such a good Driver and Rider with us!
If you want to find out more about the Masters, then please click here: https://www.iamroadsmart.com/masters