Our Chairman is 1 in 15,000!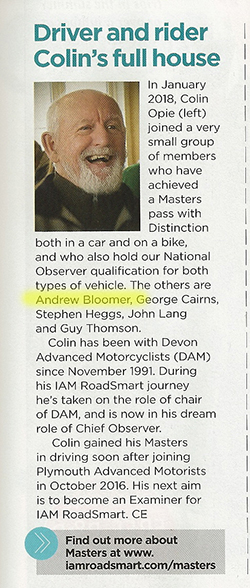 Andrew Bloomer, our current Group Chairman, has just been recognised as one of 6 people in the whole of the IAM (that's 1 in 15,000 IAM Members ) who has achieved all of the following:
National Observer for both Cars and Bikes
Masters with Distinction for both Cars and Bikes
This was reported in the IAM Spring/Summer 2018 edition of "RoadSmart", the IAM's magazine for it's members on Page 9.
Well done Andrew – Excellent news and the Group is proud to have a such a good Driver and Rider with us!
If you want to find out more about the Masters, then please click here: https://www.iamroadsmart.com/masters
Recent New Members
Warrington Advanced Motorists are always pleased to welcome new Members to the Group who want to take their Advanced Test.  The latest new Members over the last 12 months  are:
Cars
Joined 24/07/2018 – Tegan Greener
Joined 19/07/2018 – Emma Brown
Joined 09/04/2018 – Michael Hughes
Joined 02/04/2018 – Jacob Birkenhead
Joined 27/03/2018 – Diane Riley
Joined 15/02/2018 – Philip Armstrong
Bikes
Joined 17/06/2018 – Alan Glazer
Joined 16/05/2018 – George Calderbank
Joined 09/05/2018 – Mohammad Omar
Joined 06/02/2018 – Stuart Jones
Joined 22/11/2017 – Raymond Wright
Joined 15/11/2017 – Oliver Fullerton
Recent Advanced Test Passes
We are always delighted to when our people take and pass their Advanced Test, be it in a Car or on a Bike and these are our  latest Test passes over the last 12 months.
Car
Passed 08/08/2018 – Mike Hughes (F1rst)
Passed 20/05/2018 – Tony Spagnuolo
Passed 04/04/2018 – Michael Boddy (

F1rst

)
Passed 31/03/2018 – Anne-Marie Ross (

F1rst

)
Passed 110/2/2018 – Sean Hooper
Passed 15/09/2017 – Patrick Moore
Passed 01/09/2017 – Nicholas Spreadbury
Bike
Passed 01/08/2018 – Stuart Jones (F1rst)
Passed 01/05/2018 – Anthony Bailey
Passed 07/01/2018 – Mark Griffiths
Passed 14/11/2017 – Tom McCann (

F1rst

)
Passed 11/11/2017 – Tomasz Hermanowicz
Passed  31/10/2017 – John Bellamy (

F1rst

)
Note that F1rst against a person's name indicates that they have taken the IAM Advanced test for car or motorcycle and achieved a score of 1 in the vast majority of the categories which indicates "Excellence" in that category (2 is a "Pass") so well done to those achiving their F1rst.
Up to today (09/08/2018), we have had 16 F1rst passes.