We meet every Sunday at 10:15 (except the last Sunday before Christmas Day, the Sunday between Chistmas and New Year, and Easter Sunday) at:
Holiday Inn Warrington
Woolston Grange Avenue
Woolston
WARRINGTON  WA1 4PX

From the roundabout on the A57 between Warrington and Manchester, take the B5210 (Woolston Grange Avenue) and less than 200 metres after leaving the roundabout, the entrance to the Holiday Inn is on your immediate left.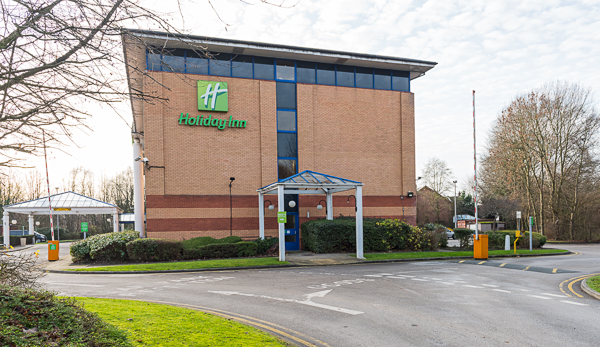 If the barrier for the right turn is UP (as per the picture above), turn to the right and park in  any of the parking spaces on the right or directly opposite and  behind the hotel.  Then please walk around the building  and go in the Front Entrance.
If the barrier for the right turn is DOWN, then go to the left, and drive around the hotel to get behind the Hotel and park there.  Then please walk around the building and go in the Hotel Front Entrance

Ask at Reception where the Warrington Advanced Motorists meet as they have three meeting rooms and we are not always in the same one.
Please, please, remember to register on either of the two  tablet screens on the Reception Desk by selecting as a 'Guest' for one night only and then entering your vehicle registration.   The Car Park is monitored by an external company through CCTV and married up to the data from those  tablet screens on the reception desk.

We look forward to meeting you.