For at least the past 10 years in which I have been a member of the Warrington BIKE section I can recall fond memories of regularly getting out on my bike with like-minded folk. The Group has Weekly Social rides and Monthly (longer) Ride-outs.
Weekly Social Rides
When?
Traditionally we have always (and still do ) dedicate most Thursday evenings, meeting up at 7pm (weather – permitting) for our weekly "chippy run".
Start?
We utilise the facilities at the "Lets Eat Cafe" (LEC) which is situated on the A49 near the A533 intersection.
This trucker venue is also ideally situated as a departure hub for a choice of routes in all directions and has become popular with BIKERS, having an adjacent Fuel Station, plus ample parking, outside benches. toilets and of course, a GREAT CAFE. Although they often close earlier through the weekdays!
Weekly, 7pm, Thursday chippy runs now meet here and unless otherwise stated, all other rideout gatherings are at "Pops".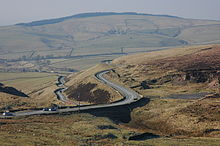 To where?
We try and keep our social chippy runs interesting and mix the routes and destinations around each week. Typically we will venture out along (mostly bike-friendly) roads to locations such as Nantwich, Whitchurch, Parkgate, Alderley Edge (via Macclesfield) etc … and are always open to suggestions for new routes and destinations.
An hour or so outbound, is usually covered in a progressive but leisurely manner.
A half hour to enjoy a meal, or perhaps just a brew ? No problem !
Most of us are back home between 9 pm to 9.30 pm and group sizes can be anything from just 2 guys (or gals) up to as many as 16 (record held by Geoff Kelly!)
Format?
We all ride for ourselves but we do give consideration to fellow BIKERS and other road users. Often on faster roads we make a staggered formation to maintain a 2 second separation from the bike in front, and then drop into line for corners and other hazards to optimise view. A designated rider leads the convoy and considers the route and destination options, while looking out for new riders and generally how the "procession" flows.
Larger attendances may involve deploying the "2nd man drop off" system; which permits a safer and more coherent flow so that nobody gets left at the rear having to play catch – up ! If in doubt – just ask !
Riding is a perishable skill and regular attendance helps maintain a certain level of familiarity with what the IAM scheme is all about … Being Safe, Smooth, Systematic and legal and not forgetting – Enjoyable. Plus we get to keep in touch with our riding buddies and maintain that enjoyment derived from riding our bikes !
Monthly Ride-outs
When?
Traditionally, we have always planned a full-day out on the bikes on the last Sunday of each month (climate and commitment – dependant of course !). We normally meet at 9 am or 10 am.
Mixed opinions abound, but on a typical day we will cover 200 to 250 miles, but we have done less … and we have covered more 😉
Often there will be a printed route handed out with approximate fuel, toilet and brew stops and a planned lunch break. With smaller groups we just "wing it !"and dispense with the route plans which has occasionally been "interesting ". 😉
It is recommended that RIDERS arrive with a full fuel tank and suitably dressed for the conditions (YES … it sometimes happens ). Also, we ask that anyone wishing to divert early advises the ride coordinator of their plans (so we can account for them).
Start from ?
Unless otherwise stated we meet at McDonalds at "Poplar" Lymm Services on J20 of the M6, nicknamed "Pops" by the regulars. This location is ideal for Observers meeting with associates due to the provision of shelter in inclement weather. Plus the availability of Fuel, toilets and the usual culinary opportunities!
"Pops" offers several, wider route options and ticks all the appropriate boxes! Ride "Captains" have included Geoff Kelly, Martin Stewart and Simon Jones.
Gordon Blackshaw has always kindly broadcast these events via E-Mail to all current group members which keeps everyone informed. Nowadays this is repeated using text messaging, WattsApp and plain-old Phone calls. There have been recent proposals to include them on our FaceBook pages,
To where?
We are truly blessed with our geographical location and have access to the networks of thousands of miles of great BIKING roads within an hour of departure.
Derbyshire (Peaks, Bakewell and beyond), Shropshire (Ironbridge and beyond), The Yorkshire Dales, The Lake District, Gods great Country (Wales) and our very own Cheshire and Staffordshire Regions. All offering tantilising stretches of mile-munching the tarmac over which to cover hours of BIKING bliss !
So popular are some of our routes that conversations have led to plans for group trips – so we can stay out and ride our bikes even further!
Format?
Group sizes vary with season, weather and other commitments; but we can expect between 5 and 20 bikes turning out when circumstances are optimal. The same protocols apply that we use for the weekly rides, but as usual … if in doubt, please just ask!
Other Runs?
Annual motorcycling events are frequently attended by members of our BIKER group, these are usually added to one of our WhatsApp message forums.
Biker Down is a road safety initiative supported nationwide, but locally by Cheshire Fire and Rescue Service, and at least four of these FREE events have been attended by Warrington IAM members.
Tour of the North Coast 500. This run is usually scheduled at the end of May Bank Holiday and attracts around a dozen or so eager participants. Covering 4/5 days we traverse up to the Scottish Highlands and take the clockwise route around the Northern Coastline and back to Inverness. Other trips may be listed throughout the year.
WHY?
This used to be a frequent matrimonial question between my wife and I, until she thought "If I can't stop him I might as well join him !" Now she complains to me if I don't bring her along after many years and thousands of miles as pillion. Her riding kit is also getting more expensive too!
Now we often take our holiday by bike and tour whenever possible. BIKERS (Globally) are generally a sociable bunch of like-minded people who share a passion for 2-wheeled travel and all its associated benefits. In fact you will often find the hardcore devotees riding all year round regardless of most kinds of weather.
There are Track racing fans, Touring devotees, Classic bike collectors, Restoration enthusiasts, Custom builders, Off-roaders, Adventure Riders, Instructors and Trainers (including the IAM and RoSPA Observers), Scooter devotees, Stunt specialists, Armchair Fans … the list goes on.
It is so satisfying for me being part of a group of committed, enthusiastic and eager, fellow BIKERS, all sharing the joy of being out on a glorious day riding our motorbikes through great scenery, along perfect tarmac and detatched from the daily routine of life.
Personally, like most of the group – we just love riding our bikes whether solo, 2 up or with a group of fellow riders … Its all good !
Simon Jones 2017 BMW RF1200 GS Adventure